Spoke Apparel 2016 Downhill & Enduro Race Team
We're pleased to be supported by Industry Nine, RaceFace, Hawley, Santa Cruz Bikes, Five Ten and Smith Optics for the 2016 season.
The Team Schedule
We're going to be riding the Eastern States Cup (Atlantic Series), some ProGRT's and some Eastern States Cup Enduro.
Downhill Team Riders
Amy Leishear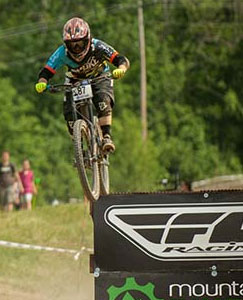 About Amy
Amy is the 2015 Gravity East Pro Women's overall champ and MAC Dual Slalom series Pro Women's overall champ for 2015. She's a proven all-around shredder whether she is riding her trail bike, single speed, road bike or downhill bike. A true competitor, Amy also took first in 2013 for Pro Women at the East Coast's only endurance DH race; Snowshoe Mountain's Chomolungma Challenge.

Amy's Stats:
Category………….Pro
Years Racing…….5
Podiums…………..16
Race History……..click here
Whip……………….Specialized Demo 8
Jon Hanson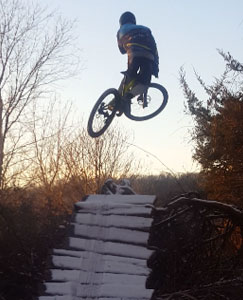 About Jon
An 8 year vet with over 25 podiums, stoked to have another Mountain Creek local on the squad. Jon embodies the spirit and soul of the sport in a manner we feel solid getting behind. He will be racing ProGRTs, GES and ESC races this season. Jon will also be lending his creative input to the development of our 2017 freeride jersey.

Jon's Stats:
Category………….Pro
Years Racing…….8
Podiums…………..26
Race History……..click here
Whip……………….Commencal Supreme DH v4
Dylan Blachek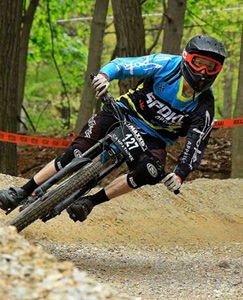 About Dylan
Dylan grew up riding moto and BMX (street). He credits his flow and line choice to twisting throttles and mucking around town on the BMX with his boys. He stumbled upon DH a couple years ago and immediately fell in love. New to the Cat 1 division in 2015, Dylan's looking forward competing for that top step against some very worthy contenders.
Dylan's Stats:
Category…………Pro
Years Racing…….4
Podiums…………..11
Race History……..click here
Whip……………….Giant Glory
Justin Brigandi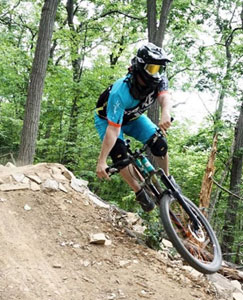 About Justin
Brigandi was the Gravity East Series overall Pro champ in 2013 and the US Open champ in 2011. He is no stranger to trail building and has consistently served as one of the main builders and course testers for the World Cup track in Windham, NY. Justin is a resident pro at Mountain Creek Bike Park and Spoke Apparel's only supported freerider.

Justin's Stats:
Category………….Pro
Years Racing…….7
Podiums…………..15
Race History……..click here
Whip……………….Canfield Jedi, Santa Cruz Nomad
Social…………….@burger_brigandi (gram) Facebook
Jeremy Fahey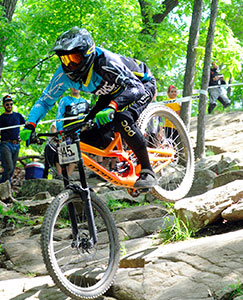 About Jeremy
When we asked Jeremy to send us a pic for his bio, he sent us this. When we asked him for a brief write up on himself, he responded "I like to race." Suffice it to say, we have a black sheep on our hands. And that's fine with us. This guy can do or say whatever the hell he pleases. We'll just let his numbers do the talking. And if we ever figure out what kind of bike he rides, we'll be sure to replace his response below.

Jeremy's Stats:
Category………….Cat 1, 40+
Years Racing…….6
Podiums…………..25
Race History……..click here
Whip……………….Says he's more of a lace-type guy.
Social………………Facebook
Mike Karfakis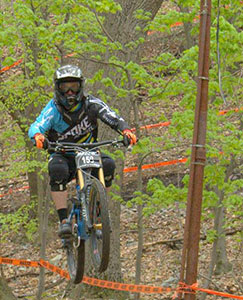 About Mike
Mike closed the 2015 season as the Cat 2 30-39 overall champ in the Gravity East Series. He moved up to race Cat 1 in 2016 and got broke off bad at Windham ProGRT. After a lengthy rehab, he is back in 2017 racing Cat 2, 40+. Mike got his start riding trail bikes in the mid-Atlantic. After riding downhill for the first time in Bootleg Canyon, NV, he was hooked.

Mike's Stats:
Category………….Cat 2, 40+
Years Racing…….6
Podiums………….9
Race History……..click here
Whip……………….Santa Cruz Nomad / V10
Social…..@SpokeApparel (gram) @SpokeApparel (twit)
Mark Marrongelli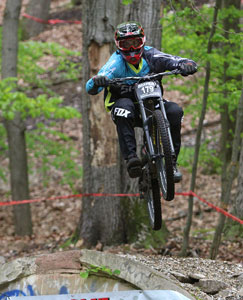 About Mark
Mark started racing DH a short while ago and is already racking up the podiums. He lives in Binghamton, NY where he rides regularly with Dylan and Jeremy. He's always got a big smile on his face and he's a great guy to burn laps with as you can almost see his skill set improving before your eyes.

Mark's Stats:
Category………….Cat 2, 30-39
Years Racing…….2
Podiums…………..5
Race History……..click here
Whip……………….GT Fury
Social…..@mr.mark023
Joe Pharaoh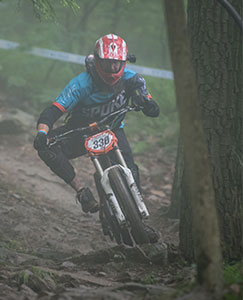 About Joe
With his ZZ Top beard and his full-on, all-in attitude, Joe goes in fast and hard and leaves it all on the mountain. Hailing from Ithaca, NY, Joe is just as likely to show up on the day of the race, or with camper and family in tow two days ahead of time. Either way, he's a super fun time to have around.

Joe's Stats:
Category………….Cat 2, 40+
Years Racing…….5
Podiums…………..16
Race History……..click here
Whip……………….Kona Operator