04.17.2010
X 20
Custom Anodized 2010 Ellsworth Moment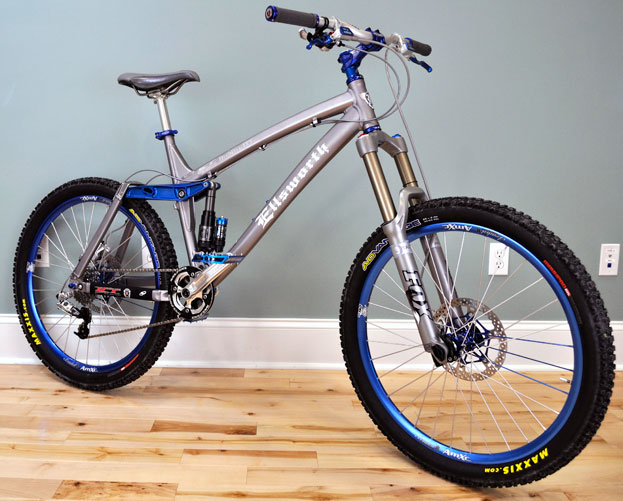 I Finally Finished The Build
For those reading this post for the first time, I began planning for this bike many months ago. This post is the second post in a series that finally completes this build saga. I originally finished this build weeks ago. But with all the snow in Baltimore, I could only test ride it in the city on a night ride with some of my boys. I let my friend Zach try out the bike – a long-time fixed gear city rider (not a mountain biker). He asked me how to shift it. I should have known right then and there. In what seemed to be one continuous motion, he shifted from the middle cog to the highest, while cranking down on the pedals as hard as he could. He managed to tear the derailleur hanger in two and carry the loose derailleur – still on the chain – through the rear wheel. Four Industry Nine spokes sheared in two and the derailleur was managed mess like none I've ever seen.
The Fox Talas 36 RLC Debacle
So after I got the wheels back from Industry Nine, and replaced the chain and derailleur, I had to send the 2010 Talas 36 RC2 back to Fox. No rebound after several test hucks in the city. Fox replaced the upper portion of the TALAS. I got it back 3 days ago, and it works great.
About the Build
I've ridden a Moment for a long time and absolutely love the bike. Nothing I have ever tested comes close in the all mountain 6″ category. My only gripe with an Ellsworth is that you can never get a matching frame and chain/seat stay color (unless you go with all black). Furthermore, a lot of the colors offered are pretty heinous (Why would you zebra stripe a high end bike? Ever see a zebra striped Ferrari? No.). Not to mention, your fork is most likely going to be a different color. When I found out that Ellsworth was willing to custom anodize using any color from their line, current or past, I jumped all over the chance to get something uniform and clean. With the ability to mute the bike, I took advantage of making the accessories pop using anodized blue. A big shout out goes to the guys at Ellsworth on this. They were great to work with and turned the bike around in under 8 weeks.
BUILD SPECS
Custom Paint
…..Frame Color – Gun Metal Grey, Anodized
…..Chain & Seat Stay Color – Gun Metal Grey, Anodized
…..Rocker Color – Anodized Blue
Wheel Set
…..Rims – Loaded USA AmXc
…..Hubs – Industry Nine, Freeride
…..Spokes – Industry Nine, Machined Aluminum
Drivetrain
…..Cranks – Raceface Atlas
…..Pedals – Straitline Platforms
…..Bottom Bracket – Hope Ceramic
…..Cassette – Sram PG-990
…..Rear Shifter – Sram X9
…..Rear Derailuer – Sram X9 (1×9 set up)
…..Outer Bash Guard– Race Face 32t
…..Inner Guard– BBG 32t
Brakes & Rubber
…..Calipers – Hope Moto V2, Machined
…..Levers – Hope Moto V2, Machined
…..Rotors – Hope Moto V2, 203mm, Floating
…..Tires – Maxxis ADvantage 2.4″
Cockpit
…..Bars – Raceface Deus XC
…..Stem – Hope (90 degree ride)
…..Post – Thompson Masterpiece
…..Saddle – WTB Laser V
…..Grips – Steve Peat Signature Lizard Skins w/ Ellsworth Caps
…..Headset – Hope
Suspension
…..Fork – 2010 Fox Talas 36 RC2
…..Shock – 2010 Fox DHX Air 5.0
More Pictures